Description
Red Vibrance mica is a beauty. This color alone in soaps creates a maroon red. It is a small micron mica, meaning that it has a more matte effect in cold and hot process soaps.
INCI: Mica, iron oxide
Micron Size: 5-25

Cosmetic use:
• Eyes
• Lips
• Bath Bombs
• External Use

Ideal for:
• Soap
• Resin
• Crafts
• Lotion
• Butters
• Wax Melts
• Nail Polish

Prop 65: This product is not on the CA Prop 65 list of toxic chemicals.
• Use rate in cold & hot process soaps: 1-2 teaspoons per pound of oils.
• Use rate in melt & pour soaps: .5 teaspoons per pound of oils.

~ More or less can be added to achieve your desired color. These usage rates are recommended for no colored lather. ~

This is a dark red mica that is maroon in hue. For a true, bright red try our Trial by Fire Red Mica.

If using in bath bombs, add polysorbate 80 at half your oils. For example, if your oil = 3 teaspoons, use polysorbate at 1.5 teaspoons. This will help prevent a color ring around the tub.
Perfect deep red with gold highlights
Perfect brick red that has a golden hue to it!
Lovely brick red- works well.
Hmmm
I thought this would be a little brighter but it's definitely like a brick shade in my bath and body products.
Great Darker Red
This is a great dark red, maroon color. I LOVE all of the vibrance colors they have. in the picture, it's the bottom layer.
Trial by Fire is the top color.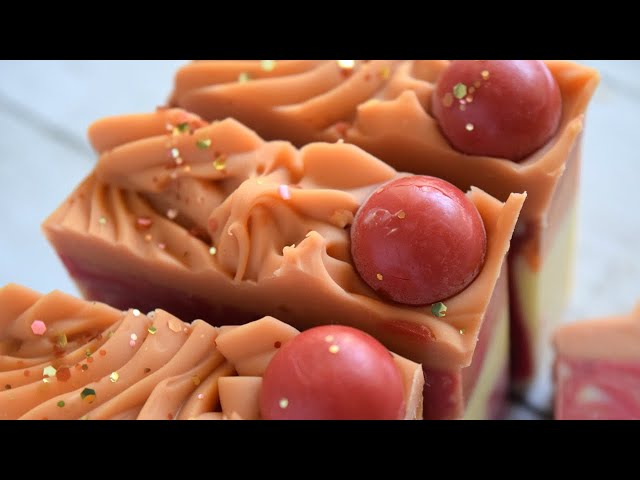 Perfect ruby red
This is the perfect deep ruby red for my Christmas soaps, as well as my cranberry orange soap. It is vibrant in CP soap, and has a beautiful shimmer in M&P soaps